Tea Witch
Tea Witch is a short text "adventure" game made in Adventuron that is currently in development!
The version here is a draft and there will be updates in the future- consider this an alpha. More narrative text needs to be added, but it is somewhat workable. It might be a little broken right now and I need to add better tutorials but hope to finish development soon. Will be adding commands to the bottom of this page to make it better.
----
The world is rather small. There is not much farther to go than your kitchen, the greenhouse, and the moors. The only objective: make and brew tea, whether for your tea rituals, to drink as is, or to give as gifts.
From a gift giving perspective, there are over 60 gifts and a wide variety of teas to make and brew, whether from what's in your kitchen, in the greenhouse, or out on the moors. It's probably in the same moor-adjacent universe as Poor Branwelland shares its name and sense of experimentation with my twitter bot.
Thanks and have fun!
---

Quick Text Command Guide: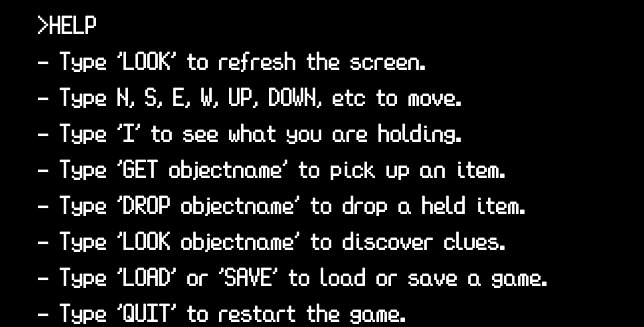 To Get Ingredients for tea:
(You can find them in the Greenhouse, the Moors. Though, you might have ready made tea in your house!)
EXAMINE ______________ (You look at the item and take some of it with you)
* You can also examine people or animals, but you don't necessarily get something!
TAKE ____________ (Removes the item because you pick up the whole thing)
To make ingredients into tea: (Need to be in shed)
PUT _____________ IN CAULDRON
*garlic can also be put in cauldron to make roasted garlic
To brew tea: (Need to be in Kitchen and need tea version of ingredient)

BREW ___________
or
MAKE _____________
To drink tea: (Need to Have Brewed tea)
DRINK ____________________
To Perform tea Ritual: (Need to have brewed tea and be in shed)
PERFORM RITUAL WITH _________________
To gift item to Marianne: (Can gift her pretty much anything and need to be on Moors with her)
GIVE _______ TO MARIANNE
To gift item to Albert and End the game (Can gift him pretty much anything and need to be in shed with him):
GIVE ___________ TO ALBERT
More Coming soon!